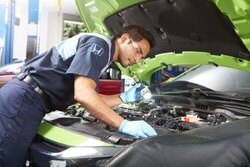 To maintain your vehicle's great health, there are a few key areas to focus on. Our Honda service center answers three important questions related to automotive service!
What Service Does My Car Need?
Keeping your car in fine working order doesn't have to be difficult. The first step is knowing which service tasks it needs. Oil changes are probably the most important, but there are several others that should be done on a regular basis. These include tire rotations, fluid top-offs, filter changes, and brake and battery checks.
When Does My Car Need Service?
So you don't miss essential service, putting your vehicle on a schedule is a good idea. Your owner's manual lists out all pertinent services and the intervals at which they should be done. Exact intervals depend on your vehicle's make and model, model year, mileage, condition, etc.
How Do I Know My Car Needs Service?
Aside from a schedule, there are some signs to pay attention to that will let you know that service is due for your vehicle. If you're experiencing a loss of power or decreased gas mileage, this could indicate the need for an oil change. Other signs that you don't want to ignore include squeaking brakes, the car veering to one side or another, or weird sounds or smells.
Get the Service Your Car Requires at Hall Honda Huntersville
If your car is in need of maintenance, you can make an appointment now at the service center at Hall Honda Huntersville. Our technicians are trained and certified and have experience working on all types of makes and models. Plus, right now we're offering a pick-up option. We can come out to your home or place of business, pick up your vehicle, and return it when the work is done.